Bee Removal, Control, and Relocation Services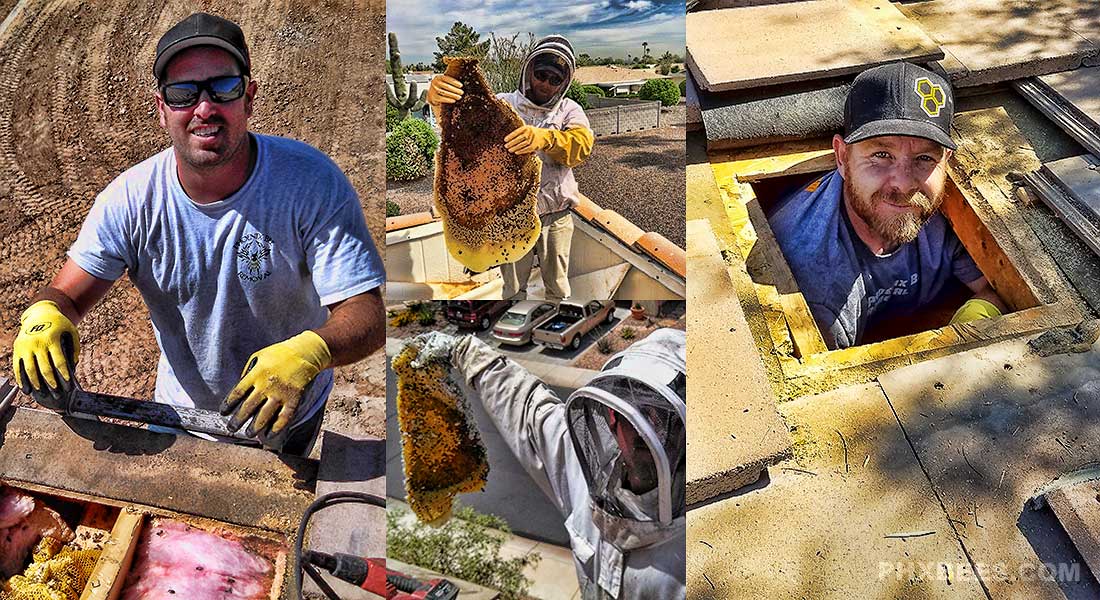 We Provide Professional Flat Rate Bee and Honeycomb Removal Services
Who we are | Our Techniques | After the Service | Safety | Guaranteed Service | Service Areas
Our Flat Rate Bee Removal is Offered Mon-Fri during normal business hours.
Weekends, Holidays, Emergency, and After-Hour Rates Will Vary.
A Trip Charge May Apply For Areas Outside of the City.
What We Offer
We are well trained and highly experienced in the treatment and removal of all varieties of bees, wasps, hornets, and other stinging insects. We are also licensed by the State of Arizona to find a safe and effective solution to all of your bee, wasp, and honeycomb removal problems. Every service Phoenix Bee Removal provides comes with a professional service guarantee that you can depend on. Every job we perform is unique and we have to approach each one safely and responsibly. Honey bees can become dangerous very fast and we will do everything we can to make sure everyone stays safe and the problem is handled safely and effectively.
Our overall goal is to relocate and release feral honey bee colonies. To give them a chance to thrive outside of the city safely away from people and homes. Sometimes, however, this is not possible due to safety concerns and bee extermination is necessary.   
Phoenix Bee Removal will give you the information and education needed to keep you and your loved ones safe. We cover bee removal from Surprise, Peoria, Glendale, and Sun City to Scottsdale, Mesa, Chandler, Gold Canyon, and everything in between including Queen Creek and San Tan Valley.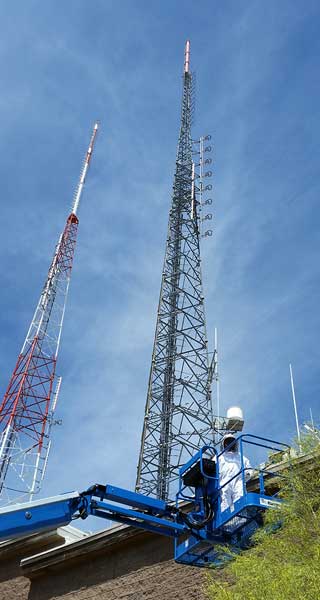 The quality of work is what this company was built on and we depend on customer referrals. You are not just another number to us and we prove this with the quality of work we do. We will be upfront and honest with you over the phone and in most cases, a service isn't even necessary. A short phone consultation about the bees can go a long way for us, our customers, and the bees. We aim to keep people educated and keep honey bees safe whenever possible. Human safety always comes before bees and with a lot of close-quarters living around the valley and a live removal is not always a viable option. A good amount of calls we get are simply a short bee education/consultation.
At Phoenix Bee Removal we don't mind letting people know if they just have scout bees or that a swarm in a tree will leave within a few days. A high percentage of calls we get in the spring and early summer months is for migrating bee swarms in trees. These swarms will leave with a day or two and have no intention of attacking anyone or anything. They are simply migrating looking for a new place to call home. You can read more about swarms and the habits of migrating bees in Arizona on our Why Do Bees Swarm? and Honey Bee Spring Activity pages. 
Who We Are
Phoenix Bee Removal is locally owned and operated and is the industries leading bee and honeycomb removal company in the Phoenix Metro Area. We provide a quality bee and honeycomb removal service that is fast, safe, and effective. Plus all of our work is guaranteed.
Our goal is to not only provide quality service but also educate people about feral bee colonies and swarms in Arizona. We are here to provide you with the answers to any questions you have about feral bee swarms and colonies on your property. 
Phoenix Bee Removal LLC. has been in the bee business for over a decade providing quality bee removal and honeycomb/beehive cutouts and repairs. The owners do all the honeycomb cutouts and repairs. We do not sub out any work, we take care of the problem from start to finish to ensure the job is done properly. We specialize in removing and cleaning honeycombs out of roofs and stucco walls.
Our Bee Removal Techniques and Products
With the latest technology and bee control products and techniques. We ensure a safe and effective service each and every time to keep you and your loved ones safe and worry-free. Depending on the problem and what the bees are getting into. After the bees are treated or have been removed the honeycomb will need to be cut out as well. Also, the area will need to be sealed up properly to keep other feral bee colonies out in the future. Phoenix Bee Removal is equipped with all the latest and greatest in tools and years of experience and knowledge in bee and honeycomb removal and repair.
The jobs we encounter are all unique and must be treated in a specific manner to keep everyone and everything safe. When you hire a bee removal company you will need a company that is always prepared for any situation that may pop up. Honey bees are always surprising us in what they pick to call home and every year brings new challenges adding to our arsenal of bee removal and control techniques we have. 
Honey bees in Arizona have a real knack for choosing the absolute worst places (best for them) to safely provide treatments or relocations. This can become tricky and also unsafe and lead to unnecessary injuries if not approached in the appropriate manner. That is why experience and proper tools and equipment are very important to safely and effectively handling honey bees.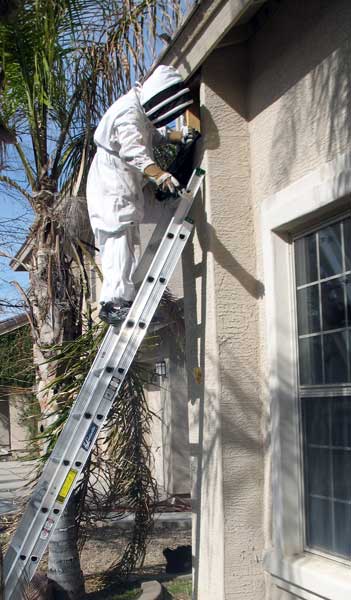 After the Bee Control Service
After the treatment, or removal of the bees. Our skilled technicians will give you their recommendations on what needs to be done. We will always recommend removing the honeycomb if deemed necessary. This will prevent any property damage from melting honey as well as prevent a reoccurring problem. Honey left in walls or attics can cause extreme damage to a home. Also, mold can become a huge problem once honey makes its way into the cracks and crevices of drywall and siding products. Honey melted inside of a home can also attract all types of pests from roaches to ants and also another colony of bees looking for a new home.
Safety Is A Major Factor
All the products we use are environmentally friendly and we make sure they are used safely and properly. An established feral beehive/colony can be dangerous and can quickly get out of hand. Every year we have someone getting hurt improperly treating bees or wasps. A licensed and trained technician is very important for safe bee removal and control. Our technicians will implement safe elimination, removal, extraction techniques to keep you and your family, neighbors, pets, and property safe. 
Every Service Is Guaranteed
Customer satisfaction is our main priority, it's what this company was built on. We will work hard to find a solution to your honey bee problem and always try to exceed in customer service and satisfaction.
Flat Rate Bee Removal
Same-Day Service
Free Phone Estimates
Friendly, Knowledgeable Technicians
Customer Satisfaction Guaranteed
Licensed, Bonded, Insured
Service Warranty On Every Job
Easy Scheduling
East Valley
Ahwatukee Bee Removal | Apache Junction Bee Removal | Carefree Bee Removal | Cave Creek Bee Removal
Chandler Bee Removal | Fountain Hills Bee Removal | Gilbert Bee Removal | Gold Canyon Bee Removal
Maricopa Bee Removal | Mesa Bee Removal | Paradise Valley Bee Removal | Queen Creek Bee Removal
Rio Verde Bee Removal | San Tan Valley Bee Removal | Scottsdale Bee Removal | Tempe Bee Removal
West Valley
Anthem Bee Removal | Avondale Bee Removal | Buckeye Bee Removal | El Mirage Bee Removal | Glendale Bee Removal
Goodyear Bee Removal | Laveen Bee Removal | Litchfield Park Bee Removal | Peoria Bee Removal | Phoenix Bee Removal
Sun City Bee Removal | Sun City West Bee Removal | Surprise Bee Removal
Swarm Relocation
Africanized Bee Service
Free Phone Estimates
Flat Rate Service Fees
Full Honeycomb Removal and Repair Service
Licensed, Bonded, Insured
Exterior Bee Hive Removal
Storage Container/Shed Hive Removal and Repair