Bee Removal Chandler Arizona
$120 Flat Rate Bee Removal and Control Service Company
Chandler Bee Removal
Flat Rate Pricing With Guaranteed Service
Give Us A Call Today!
We provide hassle-free bee removal services as well as beehive and honeycomb removals and repair services for Chandler, AZ. We are well experienced and take pride in continuing to offer responsible, safe, and effective flat rate bee removal services all throughout Chandler and its neighboring cities. We are locally owned and owner operated that means no middle man and no inexperienced technicians creating a dangerous situation and possibly getting someone hurt. We handle everything from start to finish so you don't have to worry about any unexpected expenses or repairs. Having your bee problem handled by a professional is a very important step in keeping you and your neighbors safe from getting stung. Chandler is home to a large amount of the valley's Africanized Bee population. Our service calls have doubled over the past few years in Chandler and will continue to grow as more homes and shopping centers are built giving feral bees no choice but to move into populated areas. The more Chandler grows the more the chances for bee encounters increase and also bee attacks will become more prevalent. 
Fully Licensed and Insured by The State of Arizona Dept. Of Agriculture
Phoenix Bee Removal LLC. is a bee removal service company providing bee removal services for Chandler and surrounding cities like Mesa, Gilbert, Tempe, San Tan Valley, and Queen Creek. We also offer honeycomb removal and repair services for one flat fee as well. Professional bee removal and control service for one flat rate. Servicing Chandler, Arizona for over a decade and counting.
Our flat rate bee removal service is offered Monday thru Friday only during regular business hours. Weekends, Holidays, After-hours, and Emergency Service prices will vary. All of our services come with a service guarantee unless otherwise specified.
We offer emergency bee removal service for Chandler 24/7. We will take care of any problem you have day or night if the situation arises. Keeping you and your family safe is of utmost importance and is always our top priority. Bees can become very dangerous if the situation is not handled properly and in a timely manner.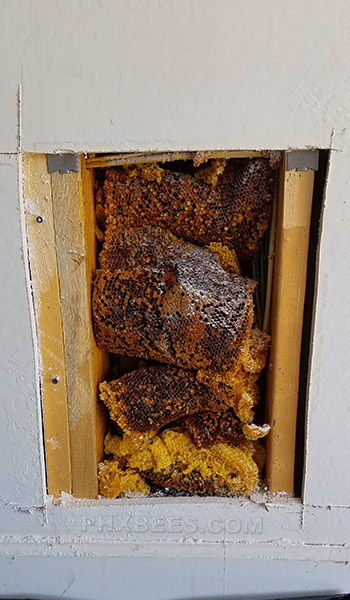 Call To Set Up An Appointment Today
Trying to treat bees with over the counter pesticides and without any experience is a very bad idea and can lead to unintentional injuries and possibly deaths. Always call a professional when dealing with honey bees.
Services we offer in Chandler, Arizona
Property Survey and Inspection
Beehive Removal
Bee Swarm Removal
Honeycomb Removal
Structural Repairs
Homes Sealing and Bee Prevention
Swarm Trapping
Live Bee Relocation
Wasp Removal and Control
Africanized Bee Control
Carpenter Bee Control
Pheromone Masking
Beehive Extermination
Emergency Bee Removal Services
Africanized bees look exactly the same as the European honey bee. The only major difference being the aggression the bees have when defending their beehive. Africanized bees or "killer bees" as many like to call them are prevalent throughout Chandler AZ and the number of bee attacks is also rising due to people trying to treat bees without seeking professional help. Always call a licensed and insured bee removal company when dealing with honeybees. Using someone who is inexperienced can lead to unintentional injuries and even fatalities.
Honeybee swarms that land on trees and make a big ball of bees are often mistaken for active hives. These migrating bee swarms will normally move on within 72 hours and are not dangerous. The bees are in a very docile state when they are migrating and as long as they are left alone the will fly. Disturbing the bees or spraying them with water will only make the problem worse by splitting up the swarm and causing them to become confused and form several different swarms. This happens all too often and can be avoided by letting the bees take their natural course and migrate.
We also provide guaranteed honeycomb removal and repair services for Chandler Arizona. Give us a call today and get a free quote for honeycomb removal from your home or business.
Give us a call today to schedule an appointment or to get the information you need to keep you and your family safe.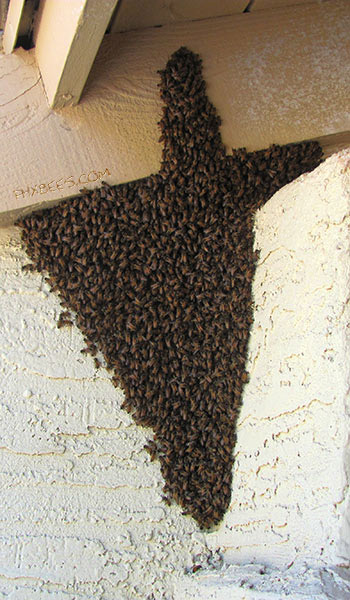 Bee Removal in the City of Chandler, Arizona. There is a lot of bee activity all over Chandler with the most being concentrated in 85225 and 85226. Bees have been a problem for Chandler homeowners for years and will be around for years more building honeycombs in the attics and under sheds. 
We have handled hundreds of bee removals in Chandler over the years. Some of the biggest honeycomb removals we have done were in Chandler back when there were a lot of foreclosed homes all over the valley. 100lbs. plus beehives were being removed regularly all over the valley.
Bees can be dangerous if the problem is not approached properly. Africanized bees can be extremely dangerous and even result in death if treated by someone inexperienced. Please call a professional to talk about your bee problem. Never try to treat the bees yourself always consult a professional.
$120 Flat Rate Bee Removal is Offred Mon-Fri during normal business hours.
Weekends, Holidays, Emergency, and After-Hours Rates Will Vary.
A Trip Charge May Apply For Areas Outside of the City.