Bee Removal Sun City West, AZ.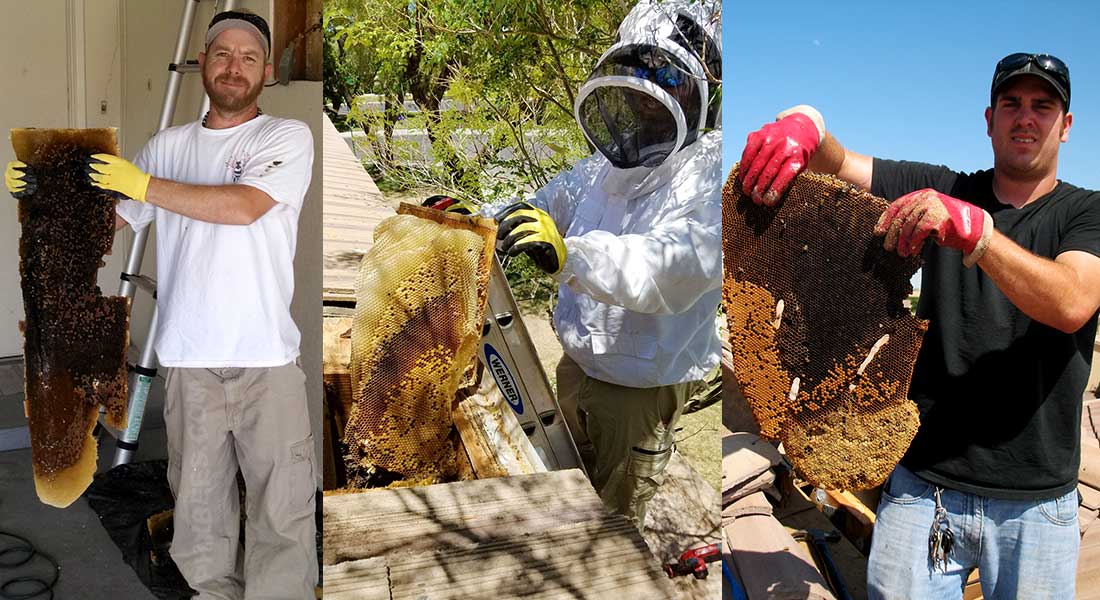 Flat Rate Bee Removal and Control Service
Licensed and Insured, plus all of our bee removals come with a service guarantee!
Bee Removal in Sun City West, Arizona. Bees are a common problem in Sun City and bees can be an extreme danger to the senior citizens who call it home. We provide a flat rate bee removal and honeycomb removal service for Sun City and Sun City West. We will give you all the answers you need and make sure you and your neighbors stay safe while solving your bee problem. We are locally owned and owner operated so there is no middle-man. We do all of our own work for both bee removal as well as honeycomb removal and repair services. All of our bee removal services are guaranteed. We enjoy providing safe and effective bee removal services for the residents of Sun City and Sun City West.
We meet people from all over the U.S. who have moved to Arizona to retire. Most of these retirees have never had an encounter with Africanized bees and often mistake them for the old friendly bees from years ago. Too many times to count we have had someone trying to take care of the bee problem themselves and end up with a visit to the ER. Africanized bees are extremely dangerous and should never be sprayed or treated with anything by bought at a hardware store. This can become a fatal mistake and end up getting innocent bystanders injured or worse. Senior citizens are not as quick and agile as they once were and getting away from an attacking beehive can lead to a trip and fall and can become a real nasty situation real fast. Always call a professional bee removal company to remove or treat your bees. Amateur beekeepers often have no idea how to handle a feral bee colony and can get people hurt or killed unintentionally. 
Phoenix Bee Removal LLC. is a bee removal service company providing flat rate bee removal services for Sun City West and other surrounding cities like Surprise, Peoria, Glendale, El Mirage, and Anthem. We also offer honeycomb removal and repair services for one flat fee as well. Professional bee removal and control service for one flat rate with a service guarantee. Servicing Sun City and Sun City West, Arizona for over a decade and counting.
Don't become another victim to overpriced bee removal services.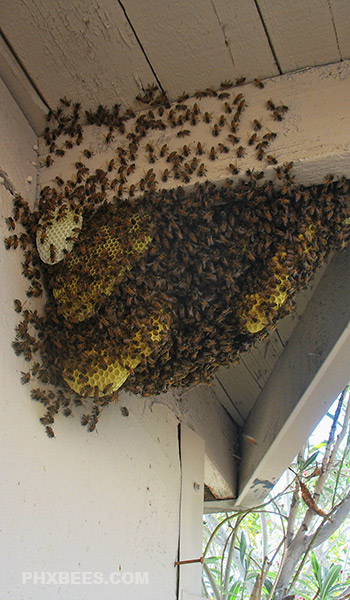 We know all too well that senior citizens are often targets for schemes and also taken advantage of. When it comes to bee removal scare tactics are the most common way of hiking up the price and catching you off-guard. That's why we have our flat rate pricing to help put a stop to overpriced bee removal based on fear-mongering and to give people an option and also to educate them on what to do when it comes to solving any problem they may be having with bees or wasps.
Our flat rate bee removal service is offered Monday thru Friday only. Weekends, Holidays, After-hours, and Emergency Service prices will vary. All of our services come with a service guarantee unless otherwise specified.
Free Quotes
Honey Bee Consultations
Arizona State Certified
Licensed and Insured
Locally Owned Owner Operated
Service Guarantee
24/7 Emergency Response
Honest, Dependable, Friendly Service
Low-Cost Bee Removal
Maricopa and Pinal County Bee Removal
Bee swarms that land on tree limbs when migrating will normally take off within 72 hours. Migrating swarms are normally docile as long as they are left alone. Having a migrating feral bee swarm removed can and will cause unnecessary stress. Letting nature take its course is the best thing you can do to help preserve our bee population in central Arizona. These are often mistaken for active beehives and can be a bit intimidating when they land in your yard. Give us a call for any questions you may have about bee swarms and we will be happy to help.
Services we offer in Sun City West, Arizona
Property Survey and Inspection
Beehive Removal
Bee Swarm Removal
Honeycomb Removal
Structural Repairs
Homes Sealing and Bee Prevention
Swarm Trapping
Live Bee Relocation
Wasp Removal and Control
Africanized Bee Control
Carpenter Bee Control
Pheromone Masking
Beehive Extermination
Emergency Bee Removal Services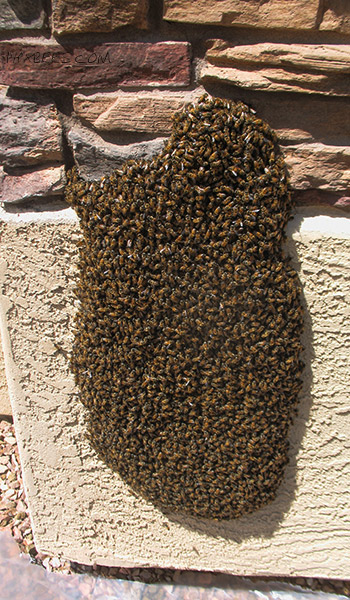 According to the Arizona Department of Agriculture, 90% of feral bees in Arizona are Africanized or Africanized hybrids. Africanized bees or killer bees are very aggressive also extremely territorial and Arizona has had a large number of bee attacks and even deaths from disturbed Africanized beehives over the past 20 years. This is why it is always important to let a professional bee removal company handle whatever issue you may be having with bees. It's simply not worth the risk of possibly injuring or killing someone by trying to treat an active Africanized bee colony. They are called killer bees for a reason. They will attack anything they deem a threat and will do so with large numbers and for a very long distance. Sun City West is home to a large population of Africanized bees and we service a large number of homes with Africanized bee infestations every year.
We have been removing bees in Sun City West for over a decade and will continue to provide services for years to come.