Professional Flat Rate Bee Removal & Control
What is Flat Rate Bee Control?
Flat rate bee removal and control with a service guarantee. This includes the treatment or removal of a single bee swarm or hive with a 30-day guarantee. After the service, our skilled technician will then give their professional advice as to what should be done next. If Honeycomb removal and repair is necessary we will give you a free estimate as to the cost of the honeycomb cut-out and repair. Flat rate bee removal service is offered for everything from bees in eaves of homes, valve boxes, sheds, walls, roofs, columns, and a lot more.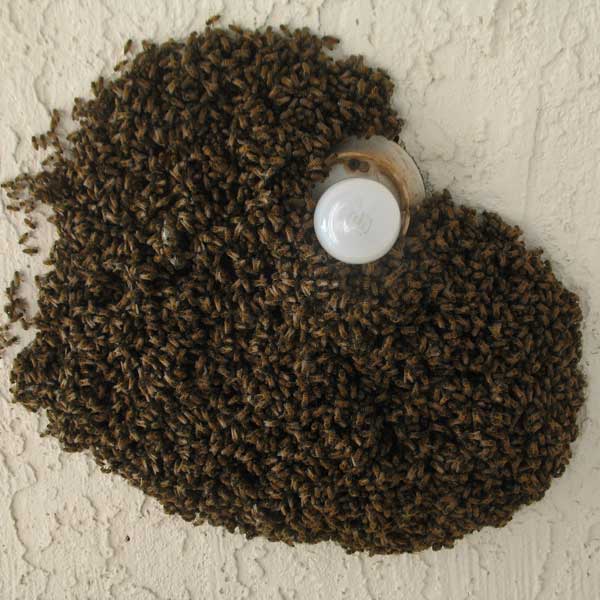 All of our service technicians are licensed and certified in the state of Arizona. We also ensure that they are well trained and only use the safest products in pest control and bee removal available today. This combined with the approach and techniques we use enable us to offer our bee removal service at such a low rate.
No Commission Based Sales 
None of our technicians work on commission so there is no reason for inflated pricing. We hold contracts with everything from schools, churches, stores, and cities for bees removal and pest control service. You won't hear any goofy scare tactics or strong a sales pitch. We depend on a strong customer base for referrals and take pride in the work we provide. 
What is included in the flat rate bee removal?
Treatment or removal of a single feral hive
Free inspection of property for other potential problems
Environmentally friendly products and service
Trained bee removal technician on every job
Free no obligation estimate for honeycomb removal or sealing (if needed)
30-day service guarantee
Our main concern is keeping you and your family, customers, neighbors, and tenants safe while providing a clean efficient service.
What to Expect with our Flat Rate Bee Removal Service
Professional advice and service from trained technicians
Piece of mind in knowing the service was done right the first time
Flexible Scheduling that works around our customers
Valleywide 24/7 lightning fast service
Multiple payment options
Licensed and insured also certified by the State of Arizona