Bee Removal Apache Junction, AZ.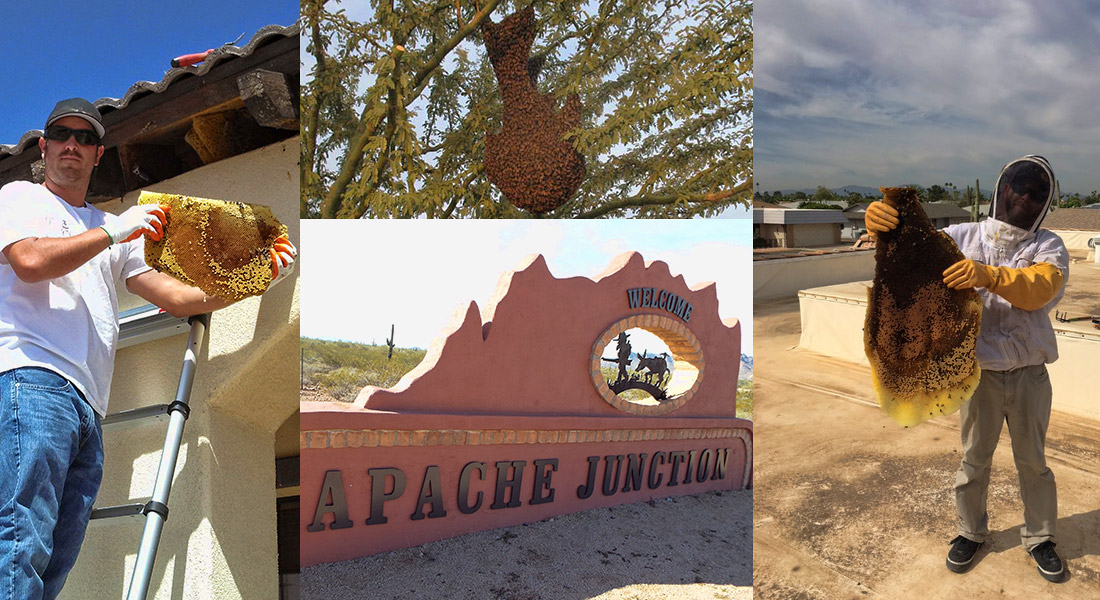 Flat-rate Bee Removal and Control Service in Apache Junction, Arizona 
Guaranteed bee removal and control service. Fully licensed and insured and locally owned and operated. We also offer honeycomb removal and repair services and full home seals for Apache Junction.
Give Us A Call Today To Get The Answers You Need
Have any questions about bees around your home in Apache Junction? Call us and we can try and help you get the answers you need to help solve your bee problem.
Bee removal in Apache Junction and around the Superstition Mountains is becoming the norm. The City of Apache Junction is a prime spot for Bee activity. During the spring, with all the trees and wildflowers blooming, bee swarms in trees and on homes are a common occurrence in Apache Junction. Unfortunately finding a new home is the reason the bees are swarming and that could mean in or around your property. Nestled in the hills under the Superstition Mountains inside Pinal County in the far East Valley.
Nestled in the hills under the Superstition Mountains inside Pinal County in the far East Valley. Apache Junction and the Gold Canyon area hold some of the valley's most beautiful homes with amazing views of not only the Superstition Mountains but of Phoenix as well. Bees love all the swimming pools, water features, ponds, golf courses, gardens, and homes. Keeping them from moving in is no easy task and should be handled by a professional.
Africanized bees are in and around Apache Junction and throughout Maricopa and Pinal Counties. They can be very dangerous and every year we hear of someone being attacked by bees trying to treat them without consulting a professional. Please do not try to treat bees on your property yourself. Not only can you be injured but you can also unknowingly get someone else or their pets hurt. Stay clear of any feral bees and leave the migrating swarms in trees alone.
Honeybee swarms that land on trees and make a big ball of bees are often mistaken for active hives. These migrating bee swarms will normally move on within 72 hours and are not dangerous. The bees are in a very docile state when they are migrating and as long as they are left alone the will fly. Disturbing the bees or spraying them with water will only make the problem worse by splitting up the swarm and causing them to become confused and form several different swarms. This happens all too often and can be avoided by letting the bees take their natural course and migrate.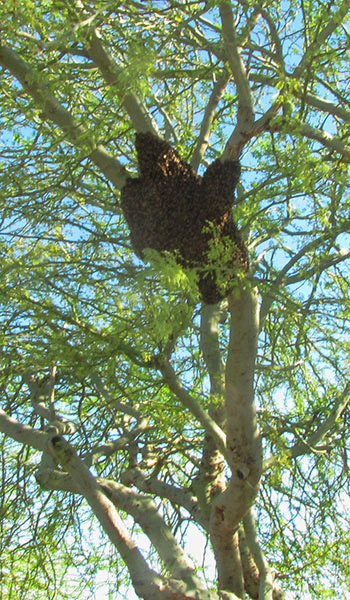 Services We Offer In Apache Junction
Property Survey and Inspection
Beehive Removal
Bee Swarm Removal
Honeycomb Removal
Structural Repairs
Homes Sealing and Bee Prevention
Bee Trapping
Swarm Trapping
Live Bee Relocation
Wasp Removal and Control
Africanized Bee Control
Carpenter Bee Control
Pheromone Masking
Beehive Extermination
Emergency Bee Removal Services
Treating bees with over-the-counter pesticides and without any experience is a very bad idea and can lead to unintentional injuries and possibly deaths. Always call a professional when dealing with honey bees.
We offer emergency bee removal services for Apache Junction, AZ. 24/7. We will take care of any problem you have day or night if the situation arises. Keeping you and your family safe is of utmost importance and is always our top priority. Bees can become very dangerous if the situation is not handled properly and in a timely manner.
Flat Rate Bee Removal is Offred Mon-Fri during normal business hours.
Weekends, Holidays, Emergency, and After-Hours Rates Will Vary.
A Trip Charge May Apply For Areas Outside of the City.