Peoria Bee Removal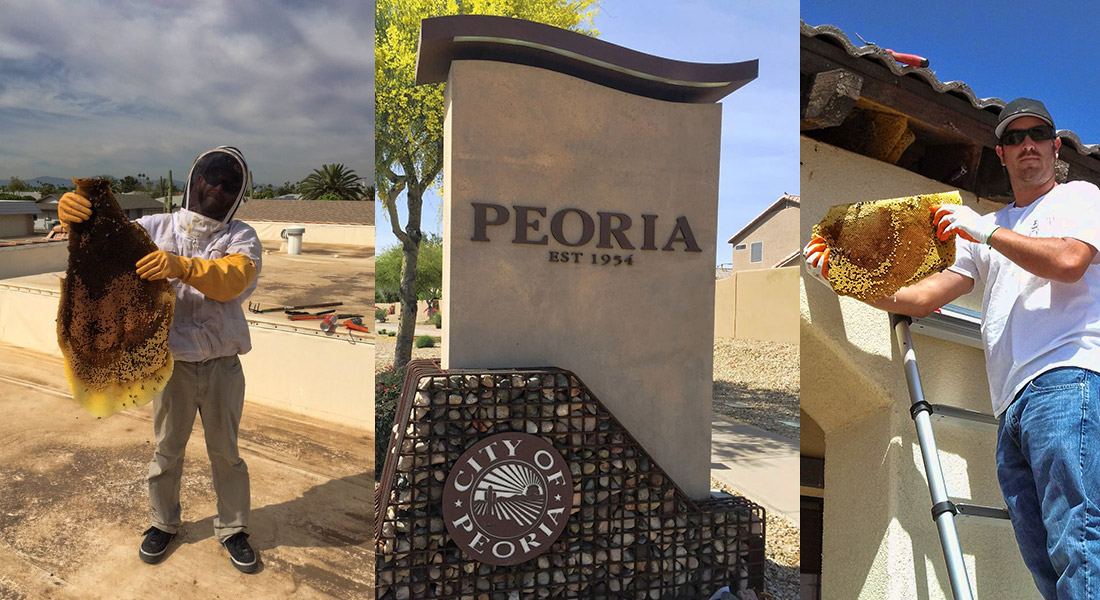 Flat-Rate Bee Removal and Control Service in Peoria, Arizona
Give us a call today!
Peoria, Arizona gets a good number of bees throughout the spring and summer months. With all the pools and flowers around the city, the bees have plenty of food and water to stick around for. Bee swarms are often to be seen as a problem but that is not always the case. More than 90% of the time honey bee swarms can be left alone and they will move along on their own. If you have a bee swarm arrive please give us a call and we will be glad to help you solve your bee issue.
Honeybee swarms that land on trees and make a big ball of bees are often mistaken for active hives. These migrating bee swarms in Peoria will normally move on within 72 hours and are not dangerous. The bees are in a very docile state when they are migrating and as long as they are left alone they will fly away. Disturbing the bees or spraying them with water will only make the problem worse by splitting up the swarm and causing them to become confused and form several different swarms. This happens all too often and can be avoided by letting the bees take their natural course and migrate.
We are licensed, insured and certified by the state of Arizona and the Department of Agriculture. We are highly experienced in all phases of bee removal and only use the safest products in pest control and bee removal available today. This combined with the approach and techniques we use enables us to offer our bee removal service at such a low rate.
We have been treating and removing bees in Peoria Arizona since 2007. Providing an honest, affordable bee removal company with an extensive background in home building and construction. Knowing the way homes in Peoria are built is a huge advantage in safely and properly removing a beehive and repairing the area to eliminate the problem permanently. We have over a decade of experience in all phases of home building in Peoria. This experience goes hand in hand with bee removal and gives us a huge advantage over any of our competitors. We have removed hundreds of beehives over the years and have seen just about everything there is to see when it comes to removing bees.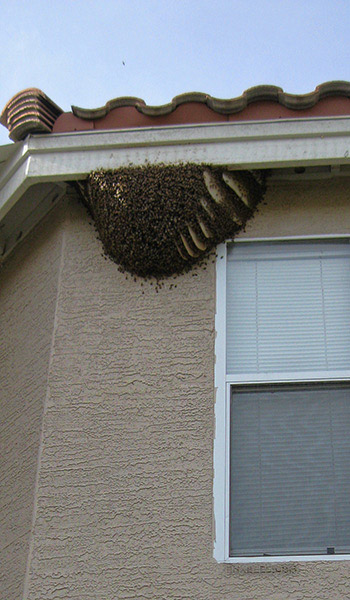 An Africanized Beehive can quickly get out of hand if the bees are not handled properly. Africanized bees or killer bees are abundant in Peoria and can become very dangerous in spring and summer months if not handled properly. The safety of you and your neighbors is a top priority for us at all times. Safely removing Africanized bees is a skill that takes years to get right and even then things can still unexpectedly happen. this is why it is important when choosing a company to safely remove Africanized Bees from your property in Peoria.
Give us a call today!
Bee swarm in a tree Peoria AZ

Have a bee swarm in a tree?

Bees swarm in Spring and Summer months in Peoria AZ and can end up stopping and resting on a tree limb along the way. This is often mistaken for an active beehive and people usually overreact. Migrating bee swarms are normally harmless and are not defensive or dangerous.

 



A bee swarm may hang around for up to 3 days but normally will leave within 24 hours after arriving. The most common trees to find bee swarms on in Peoria AZ are the Mesquite and Palo Verde trees. These trees do not provide a lot of cover from leaves and can easily be spotted.

 



We recommend leaving the bee swarms alone and letting nature take its course. Most of the bee swarms in Peoria AZ will end up making a home in the desert and not bothering anyone. However, others may move into homes and businesses creating a hazard a will then need to be taken care of.

If you have bees in a tree and are not sure if it is a swarm, please feel free to give us a call and we will help you determine if you have a bee problem or not.

 Bees under shed Peoria AZ

Have Bees in or under a shed?

This is a big problem in Peoria AZ. Under the floor of a shed is a perfect place for bees to escape the extreme Arizona Summer heat and also stay protected from predators.

 



Most people have some sort of storage shed or unit on their property. These sheds can become the perfect home for honey bees to establish themselves and start a beehive. Quickly becoming a danger to anyone or anything that may make the bees defensive.

 



Bees love to make beehives under these sheds and can multiply at an astounding rate once they've become established. Also, bees can go unnoticed for greater periods of time underneath a shed since they might not be used for long periods of time. These situations can quickly become dangerous and have led to numerous bee attacks in the Peoria area.

There is no easy solution to getting bees out from under a shed and in most cases are Africanized bee colonies. In most cases, the bees will have to be treated and the floor cut up so the honeycomb can be removed. We always recommend removing the honeycomb to prevent rotting and becoming a target for ants, mice, rats, roaches, and other pests. Also, it will attract other bees to the shed possibly making a home somewhere else.

We offer hassle-free bee removal from under sheds as well as other storage units in Peoria AZ. Phoenix Bee Removal will take care of everything from start to finish to ensure the bees under your shed get taken care of adequately and safely. We will repair any cuts made in the flooring and seal any entry points to keep any future beehives from becoming established.

 Bees inside valve box or water meter box Peoria AZ

Have bees in a valve box or water meter box?

 



Bees have been making homes inside of these since day one. They make a perfect bee box for the bees to set up a beehive and produce honey. They keep the bees protected from the intense Peoria Arizona Summer heat.

 


These can go unnoticed for long periods of time and become a danger to anyone who gets too close to the hive. Attempting to seal the bees in will only lead to more problems and can end up with someone getting unintentionally attacked by bees.

 



Phoenix Bee Removal will take care of bees in a valve box in a safe and efficient manner. Give us a call today to have your valve box bee problem solved.

 Bees in the eaves Peoria AZ

Have bees in the eave of your home or business?

 



Bees often choose the attic space of homes or a business to establish a beehive. They can enter through the cracks in the blocks or holes in the screens of the vent blocks between your roof trusses.

 



Once inside the attic they waste no time getting set up and producing honeycomb. Once honeycomb is established it will need to be removed to prevent property damage. Also, the pheromones left by the bees will attract other bee swarms in the future and they will build a new beehive on the outside of the eave. This will become an ongoing problem until the honeycomb is removed and it is cleaned of all pheromones.

We offer honeycomb removal from roofs and eaves for Peoria AZ and surrounding areas with repairs. All of our honeycomb removal services come with a 3-year guarantee.

 Bees in the walls of your home Peoria AZ

Have bees got inside of the walls of your home or business?

Bees are small and can often fit into small cracks and crevices that we can't see. Stucco homes are a good example of this. The flashing on the bottom of stucco walls is an easy entry point for bees and other insects to enter the walls of a home. Bees will find a wall either devoid of insulation or has had the insulation moved or doesn't cover enough of the wall void leaving room for the bees to create a hive.

 



Garage walls are not commonly insulated in Peoria AZ and are a common spot for beehives.

 



Phoenix Bee removal can remove beehives and honeycomb from garage walls and also repair any damage done doing so.

 Bees inside of a block wall Peoria AZ 

Block walls and retaining walls are notorious for making great insect habitat and that goes double for bees. The bees will create a beehive inside of the hollow walls and use any cracks in the mortar as an entry/exit point. These hives usually go unnoticed for weeks or months as well and the bees can become defensive if anyone gets too close.

Trying to seal the wall normally just makes the problem worse and can cause someone to unintentionally get attacked by the bees