Bee Removal Gilbert AZ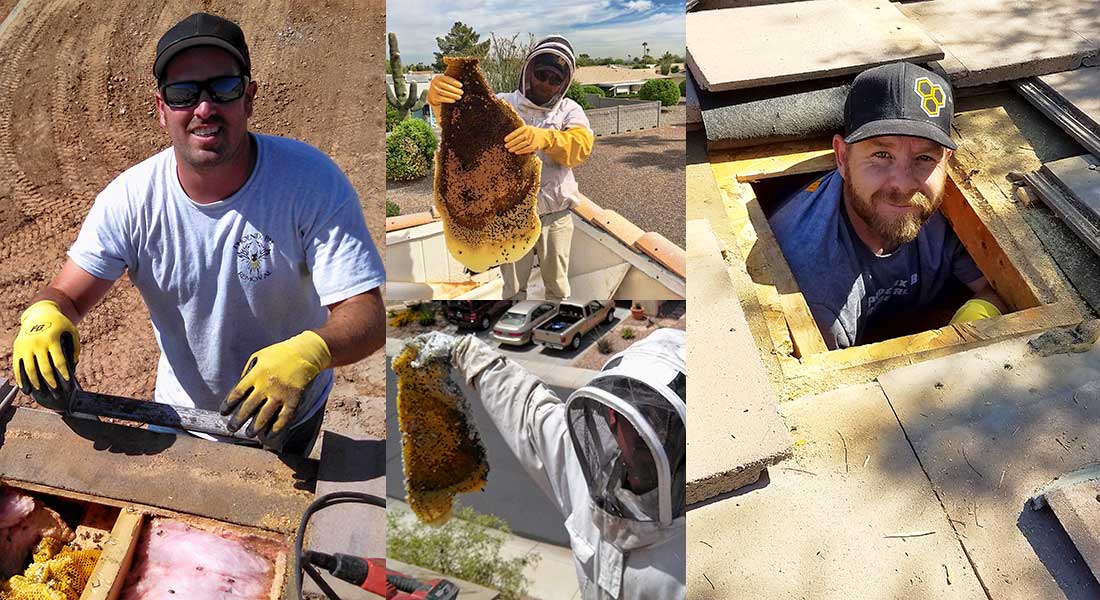 Flat Rate Bee Removal and Control
Guaranteed bee removal service for one flat fee for Gilbert, Arizona. Hassle-free bee control, swarm removal, and relocation services for Gilbert and surrounding cities like Mesa, Chandler, Tempe, Queen Creek, and San Tan Valley. We Also offer Honeycomb removal and repair services to make sure your property is not damaged by leaking honey and to make sure the bee problem you had/have does not return and become an ongoing issue.
Our flat rate bee removal service for Gilbert is offered Monday thru Friday. Weekend, Holiday, Emergency, and After-hour services prices will vary.
Gilbert has a large population of Africanized bees that move thru every Spring and Summer.
Bee swarms that land on tree limbs when migrating will normally take off within 72 hours. Migrating swarms are normally docile as long as they are left alone. Having a migrating feral bee swarm removed can and will cause unnecessary stress. Letting nature take its course is the best thing you can do to help preserve our bee population in central Arizona.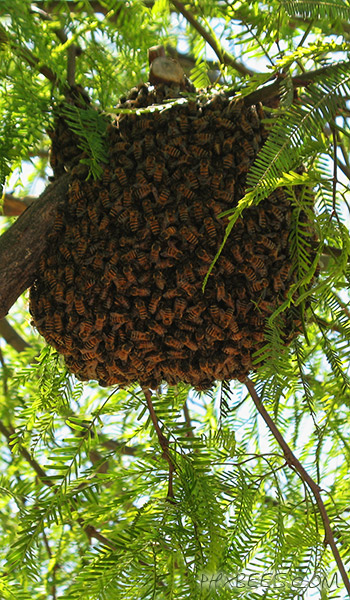 Keeping you, your family, and your property safe is our main goal. Treating or removing bees Africanized or not, can become very dangerous very fast and trying to treat bees with store bought cans of insecticides can get somebody hurt. Always call a professional when dealing with Honeybees.
Places bees like to start a new beehive
Eaves

Sheds

Compost Bins

Mailboxes

Valve Boxes

Roofs

Stucco Walls

Block Walls

Farm Equipment

Wine Barrels

Birdhouses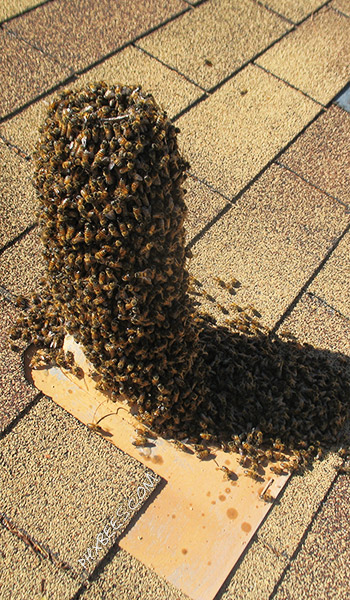 Africanized honey bees can become very dangerous once they have become established making it very unsafe for anyone to be near the hive. Africanized bee attacks happen frequently in Gilbert, and most of the time can be easily avoided. Never try to spray the bees with anything or light a fire near the bees thinking the smoke will make them go away. Neither of these work and shouldn't be tried by anyone who is untrained or unlicensed. We have seen houses lit on fire by people trying to treat bees. It is never a good idea to try and get rid of bees with fire or smoke. This can lead to unintentional injury to anyone nearby
Honeybee swarms that land in trees during the Spring and Summer months will normally take off within 72 hours. When bees swarm they are in a very docile state and not aggressive at all. As long as the bee swarm is left alone and not bothered they will continue to migrate and are just using your tree as a hotel for a bit.
As Gilbert and nearby cities continue to grow, the bee and insect problem will too. Phoenix bee removal has been servicing Gilbert Arizona for over a decade providing low-cost flat-rate bee and honeycomb removal services.
We will continue to provide our flat-rate hassle-free bee removal service for Gilbert AZ for years to come.
We also provide honeycomb removal and repair services for Gilbert, Arizona.
Free Quotes
Honey Bee Consultations
Arizona State Certified
Licensed and Insured
Locally Owned Owner Operated
Service Guarantee
24/7 Emergency Response
Honest, Dependable, Friendly Service
Low-Cost Bee Removal
Maricopa and Pinal County Bee Removal
Bee removal in Gilbert, Arizona
Bees have been in Gilbert for years and we do dozens of bee removals every year within Gilbert city limits. With the growth of the city, it gives the bees plenty of places to hide out in new homes as well as older homes. We have done our fair share of honeycomb cutouts in Gilbert. Some of them exceed 100 lbs. or more. Feral bees can take a few days to get going but once they do they can build up to a pound of comb a day. 
Bees can be dangerous if the problem is not approached properly. Africanized bees can be extremely dangerous and even result in death if treated by someone with no experience. Please call a professional to talk about your bee problem. Never try to treat the bees yourself and always consult a professional.